Phone Review – Google Pixel 2
Hang on for a minute...we're trying to find some more stories you might like.
As technology advances, personal devices have grown exponentially. Many people have complained about the sky-high price of the new iPhone X. People also complain about the huge similarities and little major changes between Apple phones. This has caused many, including myself, to switch from iOS to Android, with its many cheaper, more advanced, and various options.
Samsung has recently dominated the market, rocketing past LG, Roku, Motorola, Huawei, HTC and many more. However, a new brand of phones is gathering a large number of interests from phone seekers.
Google unveiled their second phone series (first being Nexus), the Pixel, in 2017, and it was accompanied by numerous ads showcasing the new branded phone from the tech giant. However, unlike expectations, this Pixel did not do too well, and it lost attention within a few months.
Samsung maintained its rank as the best in technology and quality for phones, and they started to beat the new iPhones with their new Galaxies. Google seemed to be out of the picture, until, in 2017, the Pixel 2 and Pixel 2 XL came out, and blew people away with how advanced it was compared to the last one. It started being called the most advanced phone of 2017, according to numerous websites. The Pixel 2 was ranked #1 in many categories, including speed, camera quality, screen resolution, compatibility and more. As a Pixel 2 user, I made a list of the advantages the Pixel 2 has over other phones, including the iPhone X.
Camera:
The Pixel 2's camera has been highly praised by many companies worldwide. To put it in perspective, here is a camera ranking by DXOMARK of the top 12 phones at the time of the Pixel 2's release week: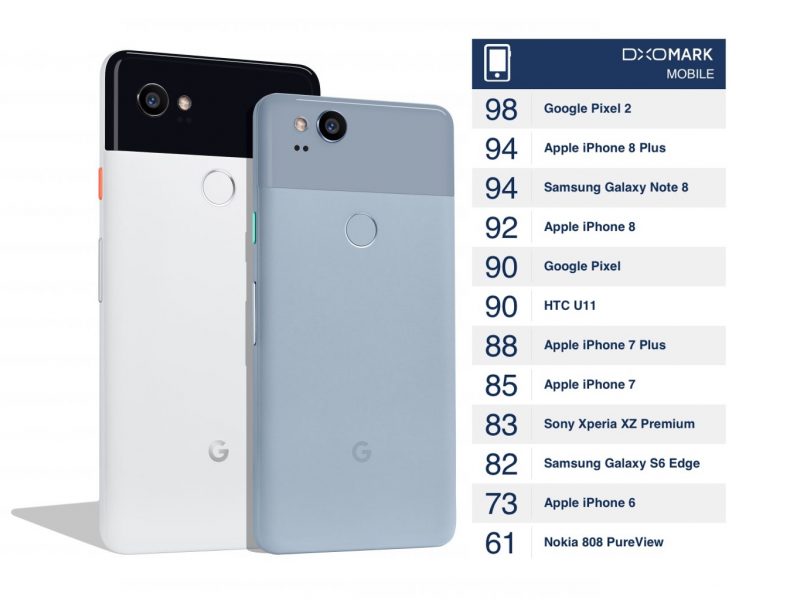 At the bottom, we see Apple's iPhone 6 and Samsung's S6 Edge, which were both successful phones. At the top, the Pixel 2 beat its predecessor, the Pixel, as well as the iPhone 8 and Galaxy Note 8. Not only is the camera high resolution, the camera has far more photo possibilities than other phones. You can take a 360° interactive panorama and a full 3D photosphere which is similar to what you would see in street view on Google Maps. This brings us to the second category,
Google Connectivity:
Being a Google phone, the Pixel 2 offers many features and easy links to Google applications and tools. Probably the most noted advantage of Google connectivity on the Pixel 2 is the unlimited photo storage due to automatic Google Drive transfers. This is one of the nicest features of the Pixel 2 because storage is never a problem. The 64 or 128 gigabytes are free from long videos and numerous photos taking up too much space.
Screen Resolution and Speed:
The Pixel 2's resolution is top notch compared to other phones on the market. It has an AMOLED display with a 1920×1080 screen resolution. The Pixel 2 is also very fast and has almost no lag.
In essence, the Pixel 2 is an incredibly efficient and intelligent phone that is definitely a fantastic buy.